Firmware uploading and upgrades
All MCUs in the kits are pre-programmed with bootloaders and you needn't any AVR programmer to update them. For the upgrading please use internal in-system UART socket located on the board. Please note that it must be UART signal levels 3.3/5V, not RS-232! Standard USB-UART cable adapter can be used.
Upgrading procedure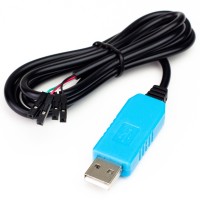 To install the updates you need a USB to UART adapter and a Windows PC to run the software that installs the updates. The adapter must support a transfer rate of at least 57600 baud. When connected, a new COM port will appear in the system, check the port number in the OS Device Manager. If necessary, install the drivers provided with the adapter.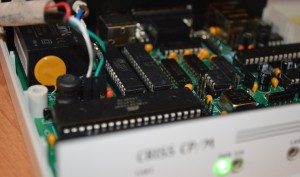 To install the updates, proceed as follows
switch off the power of the computer;
open the case by removing the two fixing screws from the bottom of the case;
very carefully remove the top cover to avoid damaging the cable to speaker attached to the top of the case;
connect the adapter to the internal system programming connector, observing the order of connection (from left to right pins Rx, Tx, GND of the adapter), usually white - green - black, the red wire of the adapter must be securely isolated;
run the bat-file of the installation package with the number of the COM-port as a parameter - the program will start and go into standby mode;
turn on your computer - boot-up will start automatically accompanied by SYS indicator flashes and audible signals;
when the installation is complete, power off the computer, disconnect the adapter, place the top cover and fasten it with the mounting screws.
Done!
Firmware
Firmware bin files are listed in the table.
| Файл / File | Назначение / Traget MCU | Версия / Version | Дата / Date | Описание / Comments |
| --- | --- | --- | --- | --- |
| cpu.hex.bin | Микропрограмма МК ЦП / CPU MCU firmware | 4.52 | 01.03.2021 | Набор функций как описано в статье / basic features as described in the magazine article |
| cpd.hex.bin | Микропрограмма МК КВУ / Peripheral controller MCU firmware | 0.18 | 01.03.2021 | Набор функций как описано в статье / basic features as described in the magazine article |
| vga_328.hex.bin | Микропрограмма МК ВК VGA / VGA controller MCU firmware | 1.19 | 01.03.2021 | Набор функций как описано в статье / basic features as described in the magazine article |
| criss20210309.zip | Комплект микропрограмм файлов начальной прошивки в одном архиве, bat-файл в комплекте | | 01.03.2021 | Набор функций как описано в статье / basic features as described in the magazine article |
Updates and bug fixed firmwares:
| Файл / File | Назначение / Traget MCU | Версия / Version | Дата / Date | Описание / Comments |
| --- | --- | --- | --- | --- |
| cpu.hex.4.56.bin beta | Микропрограмма МК ЦП / CPU MCU | 4.56 | 12.04.2021 | Улучшена совместимость с Robotron 1715 в части поддержки атрибутов, исправлена критическая ошибка некорректной обработки символа табуляции / Some technical improvements and bug fixes |
| cpu.hex.4.58.bin beta | Микропрограмма МК ЦП / CPU MCU | 4.58 | 08.05.2021 | Исправлена ошибка при рисовании линий и окружностей, добавлены команды переключения видеорежимов / Some technical improvements and bug fixes |
| cpd.hex.0.19.bin | Микропрограмма МК КВУ / Peripheral controller MCU | 0.19 | 28.04.2021 | Исправлена ошибка вывода русской буквы З, нажатие Ctrl-Backspace возвращает код 127 / Some technical improvements and bug fixes |
| vga.hex.1.20.bin | Микропрограмма МК ВГА/ VGA controller MCU | 1.20 | 08.05.2021 | Версия прошивки с "квадратными" точками графического режима / Square pixels char set |
| vga.hex.1.21.bin | Микропрограмма МК ВГА/ VGA controller MCU | 1.21 | 05.10.2021 | Добавлена функция перевода видеоконтроллера в режим сна при записи 0 в порт настройки видережима). Версия с квадратными точками / Sleep mode function added |