DIY kits
This page contains some important info about DIY kits. We're considering that you have necessary skills to solder and setup computer and understand basic principles of its operation.

The easiest way to get the DIY kit of pre-assembled computer is to buy it at our store at Tindie. If you have any questions or need any custom option, special delivering, payment option please report it to mail@ogss.ru, do not forget to mention CRISS in the message subject.
Components
All components in the kit are from official suppliers only, there is no ebay items except some special cases.
Compiling the kit we're trying to make components visibly distinct: using capacitors and resistor with different colors (e.g. 100u capacitors usually are blue while others are black etc.). But it is not strict rule, we are limited by the supplier.
All MCU are pre-programmed with bootloaders and all fuses are set, so you need only UART adapter to upload firmware, no need to have AVR ISP programmer.
Only shielded sockets are used! No "noname", usually that are from KLS or Connfly.

Critical point of the device is SRAM chip. Unfortunately they are available only via ebay and all of them are used. No choice. Chips comping from the sellers are alive but most of them doesn't fit timing specification. We test all of them and put in the kits only right one. For the 10 pcs arrived we get just 1-2 that works fine. So our advise to buy RAM chips for spare parts for the future.
All quartz resonators are from Geyer and we hope that there will be no problems with them. Clock quartz is relatively accurate but for better accuracy you can play with additional loading capacitors, PCB has place for them.
All components may be DIP, but in the kit we put some elements in SMD 0805 body: 49.9 ohm and 2.32 k resistors that are not available in DIP form. If you hardly hate SMDs please tell that when ordering and we'll put DIP resistors as close as possible to specification. LD1117 voltage converter is included in SOT body, but it is mounted like any standard TH component, don't worry about that.
Packing
All components are packed into the small plastic bags, chips are placed on the protective foaming substrate. As a rule components are distributed so to avoid soldering errors, e.g. capacitors 22p and 100n are located in different bags. All resistors are located in the separate bugs and individually marked.
"Big" components are covered with the protective bubble film. PCB is protected by special protective envelope.
The whole kit is put into the rigid carton box, empty space is filled with the filler.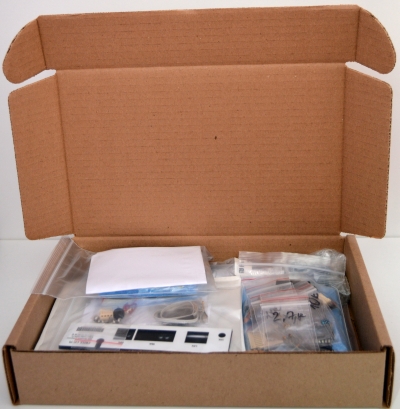 Back panel and PCB have barcode identification, please don't remove that and provide us any of these IDs when asking any question.
Delivering
Standard air delivering via Russian post or EMS with tracking is guaranteed. If you need cheaper or more comfortable option please contact us. Any option including courier service and personal delivering by the creator are available :)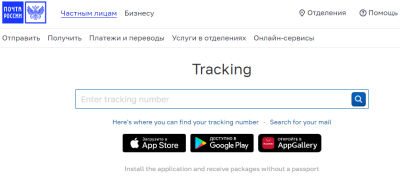 Standard kit box is 265x165x50 mm size and 520 g weight.
Assembling
Assembling has now special requirements and can be done by anyone having basic soldering skill. Actual schematic and elements placement you'll receive by email. Usually basic version takes approximately 2 hours, it has less than 100 components.
Please note that all MCU are pre-programmed with bootloaders and you needn't AVR ISP programmer.
To understand the assembling procedures please refer to the video-lesson that can be found here: www.youtube.com/watch?v=P-KTUIjS7Yo.
Suggester assembling order:
start with small size components: SMD resistors (if any), SDC holder, diodes, resistors, small capacitors, quartz resonators;
after that install all IC sockets, but do not install chips into them;
mount other ICs;
install capacitors and other "big" components excluding the fuse.
The kit contains IC sockets only for significant chips: MCUs, RAM, RTC, Ethernet controller. All other chips are soldering without sockets. But if you want you can add it yourself.
In the kit there are 2 MiniDIN sockets: 8pin and 6pin. The PCB allows to install any of them, but:
MD6 allows direct keyboard connection or using keyboard and GPIO via the standard PS/2 keyboard/mouse splitter. RS-232 in this case will be lost or you can use 3.5mm socket on the back panel for it cutting the tracks on the PCB and wiring contact pads, audio output in real life has no practical sense.
MD8 has all interfaces on it but you'll need to solder external adapter MD8M to MD6F for the keyboard, DB9 for the RS-232 and any 4-pin socket for GPIO adapter or LPT adapter (will be published soon). I'll send you wiring diagram for it.
The decision here is on your side. There is no problem to build an adapter, you'll need just two standard connectors and some wires.
In the there are 7 pins of the header connector. They should be used as follows (marked on the picture below):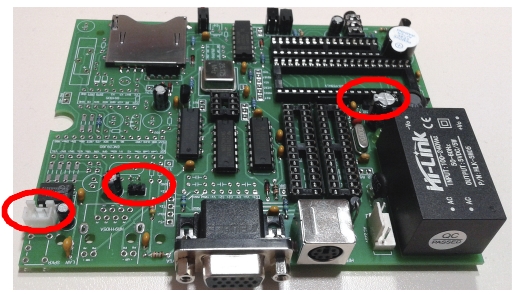 speaker connector - 2 pin;
5v external power supply - 2 pin;
in-system socket for firmware uploading - 2 ping.
Some important notes:
when installing HU-4 socket for the power cord please remove two central pins;
don't forget to put wire protective rubber grommet on the cord;
all places with the high voltage including pads and components leads MUST be protected with the silicone glue to avoid electrical shock.
After all components except fuse are installed test the board:
plug-in it into the AC power line and check voltage on the exit of the AC/DC converter, it must be 5V, plug-off the plug;
using external power supply +5V 1A unit feed the PCB via the 2-pin +5V/GND socket near the LAN controller and check that consumption is less than 150 mA.
If everything is fine, install the fuse and insert ICs into sockets taking into account that VGA MCU is marked with the white pixel. Assembling is done!
If you are assembling MAX version it is advised to assemble first standard one, check everything and after it install other components.
One final note concerning the sound:
"ideal" internal speaker is not found yet: it is either complicated to mount or sound quality is not good enough. We're trying various options. So if the speaker in the kit will not be loud enough for you please just replace it with any 8ohm 1W speaker. In the kit "mini" speakers are used because they can be mounted without any special tools;
the buzzer on the board is really loud so if you don't like it just do not remove the protective seal.
Startting new device
After assembling is done and you've checked everything and sure that there are no issues you can mount it into the enclosure. It is recommended to place PCB together with the panels. But don't put the cover - connectors for the firmware uploading are on the PCB only!
Power-up you just born CRISS CP/M. If there were no errors in the assembling it will wait firmware uploading: SYS led lights up fo 1s, after 1s you will hear a игяяук beep and everything will restart. It means that everything is fine and you can start with firmware uploading.
Switch off the computer, connect keyboard and VGA monitor.
To upload firmware you need to do the following steps:
download from the www.criss.fun website special program for the firmware uploading and start-up firmware set and unpack it;
using the UART-USB adapter (not RS-232!) connect to the internal socket and note COM-port number;
connect the adapter to the internal system programming connector, observing the order of connection (from left to right pins Rx, Tx, GND of the adapter), usually white - green - black, the red wire of the adapter must be securely isolated;
run the bat-file of the installation package with the number of the COM-port as a parameter - the program will start and go into standby mode;
turn on your computer - boot-up will start automatically accompanied by SYS indicator light and audible signals.
When the installation is complete, power off the computer, disconnect the adapter, replace the top cover and fasten it with the mounting screws.
Please refer to Firmware updates section of the site for more details.
External cables
In the MAX version, due to the lack of space on the rear panel, all interfaces are brought out but one communication socket, designated as MPS.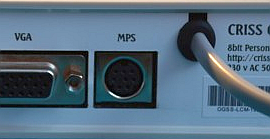 The MPS socket uses a Mini Din 8pin Male cable connector. To connect external devices, a splitter is required for which we recommend using a 4-wire cable from USB devices, the length of the splitter cable between the connectors should be approx. 20 cm.
The interfaces that are terminated on the MPS connector: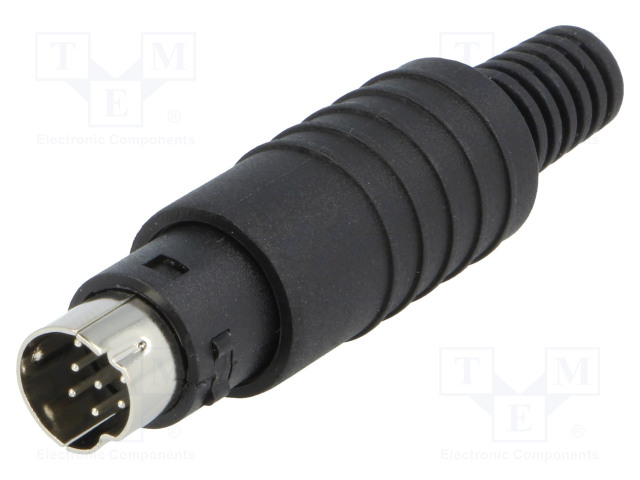 PS/2 keyboard
RS-232 interface for the connection of a printer or other peripherals
I2C bus for GPIO block
I2C bus for LPT interface
In the simplest case, the MAKS version requires an external connector to be made for connecting a keyboard. The wiring diagram and recommended conductor colours are shown in the illustration. Mounting side view.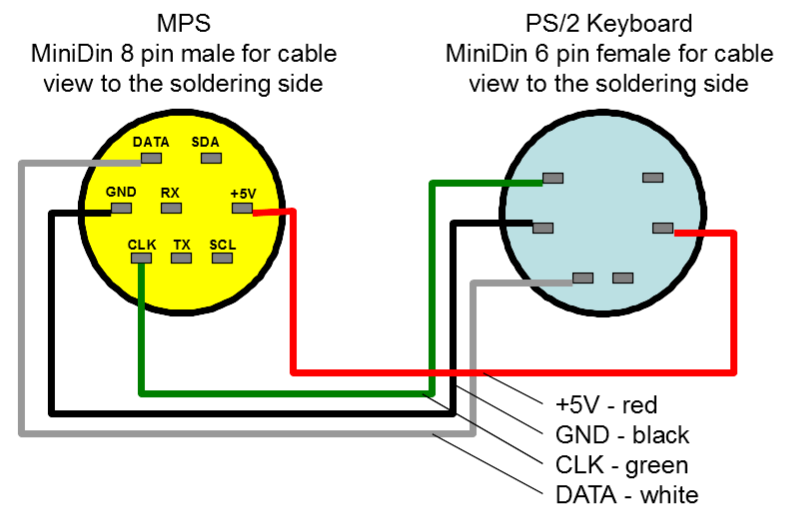 When a printer or other external device with RS-232 interface needs to be connected, the splitter includes a DB9 male connector: