Assembled computers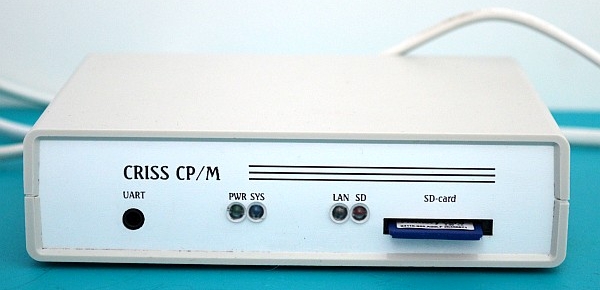 CRISS CP/M is a full-featured PC allowing to do many standard tasks: typing, printing, programming, computing etc. The main advantage of it is that it is 100% spy-free and safe computer, you may trust it all your confidential data. But also it has a wide set of interfaces so it can be used as a control platform for you projects and even it can be used for embedded applications because it can be controlled via the UART or LAN interface.
So, if CRISS CP/M computer is interesting as a sophisticated device you may want to order assembled one. It is easily possible, just select "Assembled and tuned" option during the ordering. Computer will be soldered and dispatched "ready to use".
We promise that all computers work as they should and we test main features. But if something looks wrong please contact us. Also if you need the BOM for your computer write us the e-mail.
Please take into account some important notes.
When you'll receive the postage before plugging computer to the power line please open it and ensure that all ICs are securely fixed into the sockets
MAX versions arrives without battery so please take care to buy CR1632 battery locally, there is no battery in the kit
MAX version has MD8 socket and before using the computer you'll need to solder keyboard (or more extended) adapter. We can provide such adapters only as a kit, sorry for that. We're trying to find the way how to fix this problem
All computers and kits are coming with the EU plug, but they are 110-230V and 50-60Hz compatible, please use an adapter or replace the plug with one using in your country.
If you've ordered computer with the SD card please note that this card is intended only for the first run and please don't expect that it contains all available software. CP/M software world is much wider that the SD card and most programs may be tuned to be compatible with the CRISS CP/M computer. FAR manager and CPMTOOLS package provide convenient way to manage you SD card like standard folder system. The easiest way to make another SD card for CRISS is to get the image from the first one and write it to the another.
Don't forget to take care about the peripheral components, nothing special:
any VGA monitor with the standard cable. Better if your monitor is 3:4, 15-17" is the optimal size
any PS/2 keyboard, Standard CRISS allows direct connection, MAX version requires special MD8M to MD6F adapter
optional any PS/2 mouse, Standard CRISS allows to use Y-splitter, MAX version requires special MD8M to MD6F adapter
MAX only: optional serial RS-232 printer with the cable having DB9F connection to the computer side, MD8M to DB9M adapter is required
MAX only: standard Ethernet LAN patch-cord if you are going to use LAN features.